We are excited to discover so many florists and floral designers seeking to source locally grown flowers and foliage. Whether you're looking for regular deliveries or for material for one off events, we can supply you with English flowers and foliage, all grown here in the fields and hedgerows of our Northamptonshire farm.
Flower & Farmer would be delighted to provide you with our English country flowers for your wedding day. We offer "Ready to Wear" and DIY wedding flowers. Our eco-friendly, sustainably farmed blooms are perfect for those looking for a natural, abundant and romantic style.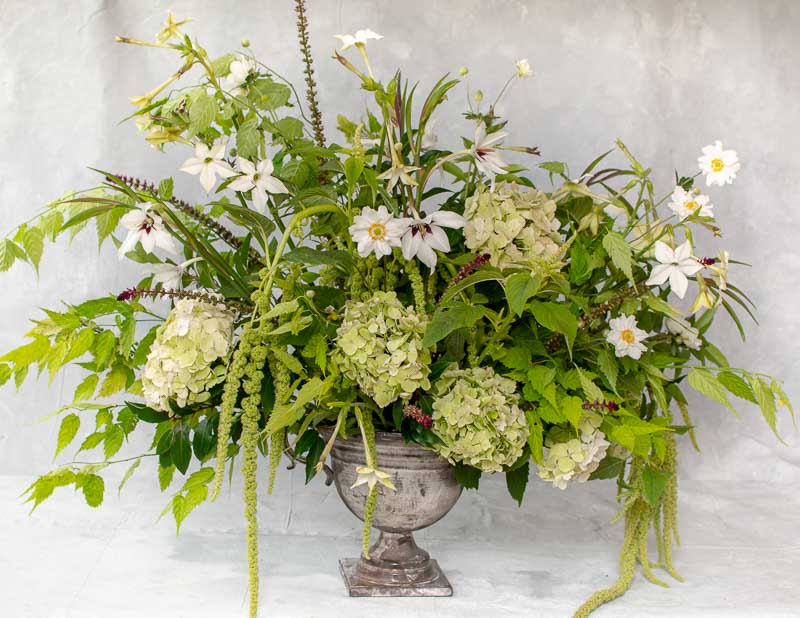 Seasonal English Flowers For Florists & "DIY" Weddings & Events
Are you looking for a regular supply of English flowers and foliage for your shop or studio? Are you a floral designer whose client has specifically requested English blooms? Whether it's regular deliveries or a one-off order, we can supply you with seasonal flowers and foliage, all grown here in the fields and hedgerows of our Northamptonshire farm. During the season (March to October), we circulate a weekly availability list. To sign up, simply fill in the form on our
Wholesale Flowers
page. For large scale events and weddings, we can work in advance with you so you can plan your design, confident that you will have flowers and foliage of the right colour, scale and shape to suit the style of the occasion. With public attitudes to the environment changing and ongoing concerns about the viability of worldwide imports, it's no surprise that many florists are choosing to shop locally. Offering your customers the option to buy guilt-free, English grown flowers is the perfect way to cater for changing buyer preferences.
Our "Ready to Wear" wedding flower range is designed using seasonal, garden flowers, freshly cut on our Northamptonshire farm. We have six collections in a range of colour schemes so you are sure to find one to suit the colour palette and style of your day.
As a British flower farm, our flowers are seasonal and we use the flowers that are looking their best on the day of your wedding. This means your wedding flowers will be truly unique and will reflect the beauty of Mother Nature at the time of your wedding, be it spring, summer or autumn.
Each of our six collections includes a beautiful bridal bouquet; a bridesmaid's bouquet and flower girl's posy in a complimentary style to the bridal bouquet; a buttonhole; wedding vase and DIY flower buckets. You can choose whatever products you want within a collection and mix and match between them too.
Our DIY buckets are ideal for those looking to create their own wedding flowers. Just let us know what you're planning and we'll ensure you have the perfect combination of flowers and foliage to make truly breath-taking arrangements.
It all began on an autumn day with a chance conversation between aunt, Jo, and niece, Milly, in the farmhouse cutting garden. The garden was brimming with Dahlias, unashamedly joyous against the cold, grey sky. That day – having taken back to her city home armfuls of Dahlias to stuff into every vase, jug and receptacle she could find – Milly was hooked. These flowers were just so glorious! Flower & Farmer quickly blossomed into a fully-fledged, flower farming enterprise. With over 40 years of horticultural experience amongst us (Jo and Jules are both professionally trained), a sheep paddock was soon turned into a flower field (with some incremental creep into the neighbouring field of wheat) and a polytunnel was installed. To provide colour and interest throughout the season (March to October), we grow an extensive selection of annuals, biennials, perennials and bulbs. We have also planted hundreds of shrubs which should soon provide healthy stem counts each year (not to mention our shopping list of shrubs for this winter…). For locally grown, fresh flowers and foliage that capture the essence of the English garden and countryside, you need look no further!